By Saher Hyderali, Battleground Texas Senior Fellow
Every year on Patriot's Day, the anniversary of the tragedy of 9/11, I commit myself to service. I find a cause that is close to my heart, which isn't hard when you're a liberal like me, and volunteer for that cause or organize an event of my own.
This year, I wanted to organize a service project that would benefit those affected by Hurricane Harvey. Houston is the city I still call home, despite not having lived there in years. My heart shattered when I saw the images of the aftermath of Harvey. That being said, my heart also swelled with pride when I saw support pouring in from all over the country. I repeatedly saw people donating water, nonperishable food items, clothes, blankets, and diapers. Still, very few people were donating feminine hygiene products. It bothered me to see that a population drastically affected by the tragedy was still lacking access to a basic need. Aunt Flo doesn't stop for Mother Nature; even in times of disaster, women's bodies still bleed.
I decided to Gandhi it up and be the change I wanted to see in the world — I organized a period packing party! I invited everyone I knew to help put together boxes of pads, tampons, panty liners, and other feminine products. I also asked people to bring items if they could afford to do so, so that we'd get a good variety to meet individual needs. When I made the event, I thought ten people would show up, maybe 12 if I got lucky. Much to my surprise, more than 30 people participated! All in all, we collected more than 3,000 tampons, more than 2,700 pads and 760 other items to take the charity #HappyPeriod, which distributes feminine hygiene kits to anyone in need of these products.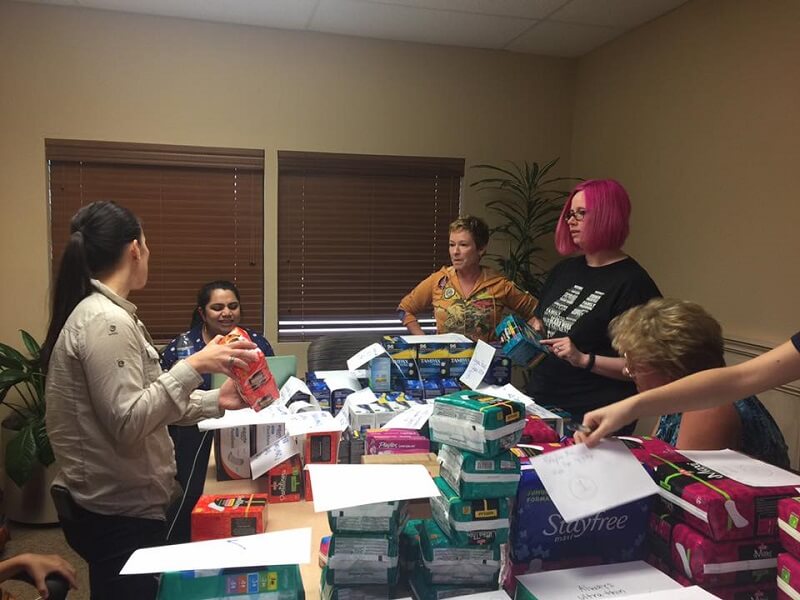 I'm still in shock that an event that I put together ended up being so successful. I didn't do it alone though. I'm lucky to have a supportive friend in Battleground Texas San Antonio Regional Coordinator, Kristian Thompson, without whom event wouldn't have been possible. I'm grateful to each person who donated to the online fundraiser, donated items, or helped to organize the products into boxes.
The biggest lesson I learned from all of this is that beautiful things happen when we all come together. I've learned that sticking together is the key to keep the Resistance going. Sticking together is what wins elections. So do your share of resisting today. Help organize a voter registration drive in your community. Engage with those whose political leanings align with you and get them to the polls. Gather up all the people you know and go to a rally. Host a fundraiser for progressive organizations like Planned Parenthood or the Human Rights Campaign. Run for office yourself, or go out canvassing for a candidate who represents your values. Or if you're exhausted from all of the above, donate to Battleground Texas so that we can continue to do all of these things. Small changes anywhere result in big election wins everywhere.
Together we can win this, in 2018 and beyond.
Keep resisting.